Check me out on Impact Week at the House of Sarager: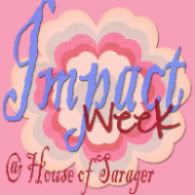 The first time I heard about Jovana I was reading an ad in our town's weekly newspaper. The writer was looking for host families for a few exchange students for the school year. Not planning on hosting, I read on. When it mentioned a girl from Serbia needed a home, I knew we were that family. I talked to my husband who was open to having an exchange student and within a half an hour I had emailed the coordinator to find out more.
I thought I wanted Jovana in our home because she comes from a culture that is similar to the one I experienced as a missionary in my younger years. Slovenia will always hold a special place in my heart. It used to be a part of Serbia back when the country was called Yugoslavia. Having a Serbian exchange student seemed to be just about as close as I could get to having a Slovene in my home.
I was wrong, though. Looking back, I don't think culture mattered. I believe God gave Jovana and I an opportunity to share a part of our lives together because He knew, as individuals, we would both need it. Especially, me.
A few weeks after Jovana arrived, our 15 month old son passed away. It was unexpected, sudden, and devastating. It didn't seem real to me. I couldn't believe I was living in this nightmare. Things like this don't happen. Not to me. Or my family. We're good people. No, this was not happening.
Except it did happen. And in these moments when I wanted to hide under a rock and never see the light of day, God had something different planned for me. My Evan died on a Tuesday. His funeral was on Saturday. What you may not know is that I was very pregnant at the time. My prayers pleading to hurry up and have this baby turned into prayers to not go into labor in the middle of the funeral. Baby Jocelyn was born Monday evening.
I needed help. With everything. My husband was amazing. He was able to take a couple weeks off of work and we grew stronger as we faced Grief together. When he went back to work, I should have felt alone. Just me, Grief and the children. But I didn't. Jovana came home every afternoon and we talked together. Sometimes, I'd help her with her homework. Other times, we sat together and remembered Evan. We laughed and cried at the memories. She loved and missed him, too. Her love for my boy touched my soul.
It didn't just stop there, though. Jovana saw what needed to be done around the house and took the initiative to fulfill the duties that I was seriously slacking on. Come hell or high water, she'd always have the dishes done before she went to bed. Even if she'd stayed after school for a debate practice or spent hours writing a paper.
Jovana is like a sponge. She wants to learn everything she can. We went shopping for groceries and I taught her about foods and nutrition. She wanted to know how to make American food and we cooked dinner together. When driving around I taught her the names of Magnolia tress and Rhododendron bushes. She wanted to understand my obsession with the Twilight series and I gave her the first novel to read. With each question or experience I helped Jovana understand, she gave me an added measure of appreciation, self worth and confidence in return.
Jovana strongly believes that everything happens for a reason. And I agree with her. Heavenly Father meant for her to live with our family. He knew the impact she would have on my life. I would not only need the love and support of my friends and family to face Grief, but I'd also need someone by my side, every day, gently encouraging me to pick up my life and live.